Testimonials
Nichol W.
Thank you so much for your kind contribution to the Wallingford Emergency Shelter's Open House event. Your donations helped to make this event a success and your kindness serves as a reminder as to why Wallingford is such a wonderful community to be a part of! On behalf of Columbus House and the Wallingford Emergency Shelter, I thank you!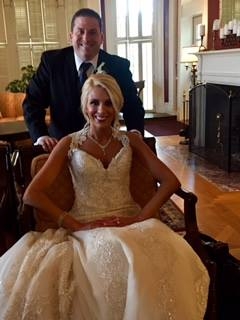 Nick & Alana
Thank you so much for everything! The wedding was perfect. We appreciate all your time and effort in making our day so special.
Sallyanne C. - Cheshire, CT,
Everything turned out beautifully. I very much appreciate the site visit you did and your suggestions about layout.
Thank you for your help. I will definitely use Taylor Rental again.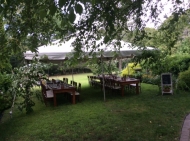 Monica M. - Wallingford, CT
Our garage was turned into a fabulous looking party room…thanks to you and your staff!
The set up crew not only arrived promptly, but they were very curious and efficient in helping us with all our needs in setting up our party area. I'll be sure to contact you when we have our next event.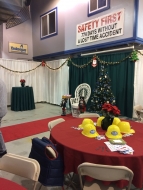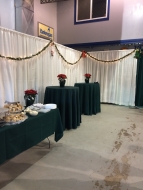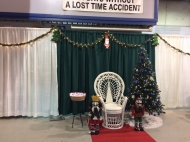 Andrea N. - Farmington, CT
Thank you, Joanne. It was a smooth set up and take down. Core values to your team for making this happen!
Kristal Cunningham - Southington, CT
Thank you so much Joanne!! You were such a tremendous help. We couldn't have done it without you!!
Everything was perfect. And the set up and delivery went so smoothly. Please thank your team for their excellent customer service.
Colleen Lowry - Portland, OR
I wanted to personally thank you for all your help throughout this entire process. What a process!! I truly do not know what I would have done without your and Andy's help.
Anyway the wedding was beautiful and would not have happened without all your assistance. You were a real professional and a pleasure to work with.
Thank you Joanne - I really do appreciate all your help and how you went way over the call of duty. You are a sweetheart and all your help was invaluable pulling this wedding off.
Carol B.
All of the staff at Taylor Rental were professional and so helpful. Joanne spent a lot of time in helping me to plan the entire function with a genuine concern! Delivery and pickup was organized and friendly.
Thanks to all for making my bridal shower a beautiful success!
Betty A.
Everything was perfect...Thank you very much...and yes I would recommend you to any and all. You especially Joanne...
Kashia Cave, My City Kitchen,
I have never been disappointed in your service.
I moved to this country in 1994 from my small island of Trinidad and Tobago, Taylor Rentals was the first rental company I used and I have been using your company for all my events ever since.
Thank you for your company consistency over the years. Keep up the excellent work.
Lance S.
Joanne,

Thank you for the red carpet for the Colin's Crew's 3rd annual movie premier event today at Wallingford Cinema's. The Minions themed event was well attended by our little heroes and their families, and everyone enjoyed walking in on a red carpet leading them to registration and the "paparazzi" picture taking area.
Sheri G. - Lebanon, CT
Excellent Service
Dear Vicki,

Thank you for providing such an excellent service with our recent rental of tables + chairs for Ian's graduation party. I appreciate your kindness with the many changes as the party drew closer. What we ended up with is perfect. Thanks again!
Ivy B. - Meriden, CT
Assistance and Flexibility.
Joanne, the event went great! Thank you so much for your assistance and flexibility.
Lisa
I am so glad you are always around
Thank you Joanne I was very happy with your service. Our family has rented from you many times and I am so glad you are always around.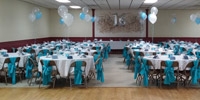 Cheyenne Hillman
16th Quinceanera
We rented the linens and chair sashes from Taylor Rental Party Plus of Wallingford for my daughter's 16th Quinceanera. The staff was very helpful and I would recommend them for any party or event in the future.
Tim Hughes - Sharon, CT
Linen Color Choices
Joanne, thanks again for your help with color choices and amounts of linens, they looked great! The event was a big success and the eggplant and sage linens really made the place look fancy and elegant. You were so helpful through out the process it made it much easier from my perspective and we'll use you again next time for sure!
Takia - Manchester, CT
Exceptional Service
I would like to thank you and your staff for your exceptional service the day of my wedding.
David Webber - South Windsor, CT
Great Customer Service
Thanks for everything. It was a great day and you and your staff were excellent. Thanks again for coming back Saturday morning to put up the sides. We really needed them. The liner was beautiful. Great customer service. I will surely recommend you!
Warm regards,

Pat and Michele - Haddam, CT
Design Guidance
Joanne, Thank you for your help in planning such a wonderful occasion, for your "eye" and design guidance. It was such a wonderful event for us and one we will never forget. We are so glad you were a part of it all.
Geoffrey Mongillo - Wallingford, CT
4th of July Party
Thanks for the great rotisserie! The pig was delicious!
Jane M - Wallingford, CT
Garden Bridal Shower
Wonderful service at Taylor Rental Party Plus in Wallingford for Jessica's bridal shower!
Susan & Mark F. - Wallingford, CT
Glitz and Glamour
Taylor Rental of Wallingford, we can't say enough about this rental company...they provided a magnificent tent, which had a dance floor and crystal hanging chandeliers, that added just enough of the Glitz to our son and daughter in laws wedding this past weekend. The white china dishes, glassware and polished silver flatware, along with beautiful navy and camel colored matte satin linens that draped the guest tables, were that special touch needed for the Glamour for Nick and Faylynne's wedding. Joanne Misenti the Event Coordinator, assisted Faylynne with the selection of a specialty lace heart designed linen for the wedding cake table and the sweetheart table for both her and Nick, as they dined at their wedding.
The customer service was excellent, outstanding and first rate, just to name a few adjectives about Taylor Rental Party Plus of Wallingford. We would highly recommend them for any event.

Sincerely,

Justin Glenn - Unionville, CT
Off to College in Style
Our party was a great success. It sent my son off to college in style. I am still recovering from it. Lots of work went into set up, food, bar and breakdown. I want to thank Taylor Rental of Wallingford's guidance and patience in helping get my party together. Their prompt and friendly service really helped get the party off the ground. Their suggestions were welcome and very helpful in keeping the party within budget.
I have used Taylor Rental of Wallingford / Party Plus in the past for a corporate party and had the same great results. That party was a huge undertaking with a very large budget and you were able to provide first class service for every detail. I will not hesitate in recommending them to anyone no matter how big or small their party is.

Warm Regards,

Charlotte - Meriden, CT
More than I could have ever imagined
Joanne, the shower was beautiful. Everything looked very pretty, which was really what I was hoping for. The bride-to-be was astonished--she said it was more than she ever imagined. Thank you so much for all your help and your ideas. Taylor and you provide a very nice service with what you do. Vickie was very helpful too--you left me in another pair of capable hands!
It was a pleasure working with you, and I will look forward to doing so again.

Tina - West Haven, CT
Wonderful Gathering
It was a pleasure doing business with you, and thanks so much for all of your help. In spite of the weather, we had a wonderful time and a huge turnout for my parents gathering. I will get some pictures to you as soon as I can.
We are constantly adding new specials to our site. Be sure to check back often!
We currently do not have any events scheduled.